Assembly of the Power Supply and wiring of the Printed Circuit :
3. - ASSEMBLY OF THE POWER SUPPLY
As a first step, you will mount some power components on the PCB and attach it to the digilab. In a second step, you will proceed to a control off the circuit. Finally, you will carry out the transformer assembly and the live test of the power supply.
Perform the various operations with great care and attention and follow the instructions below.
3. 1. - WIRING THE PRINTED CIRCUIT
Referring to Figure 3, do the following :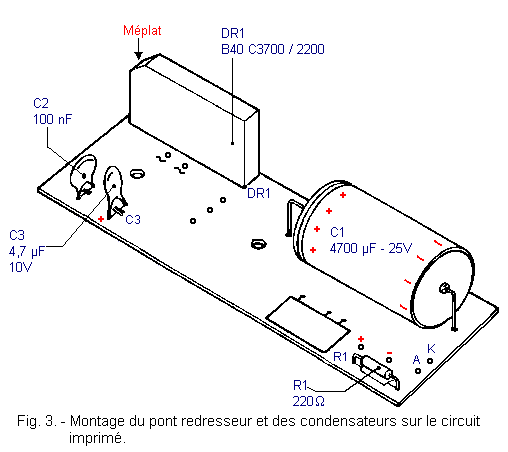 a) Insert the 4700 µF - 25 V electrolytic capacitor C1 at the intended location on the circuit board. Observe the polarity of this capacitor. Then solder the two terminals of it to the copper pellets and cut the excess part.
b) Respecting the polarity of the 4.7 µF - 10 V C3 tantalum electrolytic capacitor, solder it to the printed circuit board.
c) Solder the ceramic capacitor C2 of 100 nF (or 0.1 µF) on the printed circuit.
d) Solder on the printed circuit the resistance R1 of 220 Ω - 1 / 4 W tolerance 5% (red - red - brown - gold).
The bridge rectifier has four terminals, as shown in Figure 4.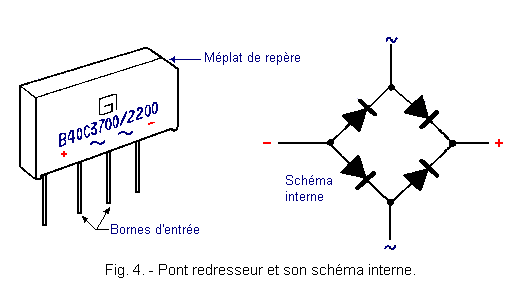 Two are marked by the usual symbol ~ and constitute the input on which is applied the AC voltage taken from the secondary of the transformer.
The other two terminals labeled (+) and (-) are the outputs connected to the terminals of the filter capacitor C1. Sometimes the rectifier bridge has a landmark that indicates the respective position of the (+) and (-) terminals.
e) Solder the rectifier bridge DR1 type B 40C 3700 / 2200 on the PCB respecting the polarity of its two output terminals (+) and (-).
Now you will wire the LM 340T5 regulator. It is provided with three electrodes. Figure 5 shows the regulator seen from the front and side.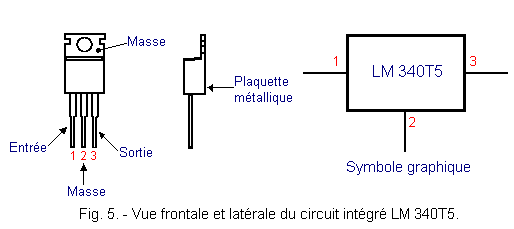 Pin 1 on the left is the input to which the unregulated voltage is applied. Central pin 2 is connected to ground.
Pin 3 is the output that provides the regulated voltage. The metal plate connected to the pin 2 is pierced with a hole for fixing on a radiator. The latter allows the heat dissipation generated by the integrated circuit.
In this assembly, the radiator will be constituted by the metal front of the digilab.
For now, perform a temporary mechanical assembly of the regulator by following the following instructions :
f) Prepare the integrated circuit as shown in Figure 6-a. Use the flat pliers to bend the three electrodes 90° to the side of the front face. The fold line is located approximately 3 mm from the regulator housing.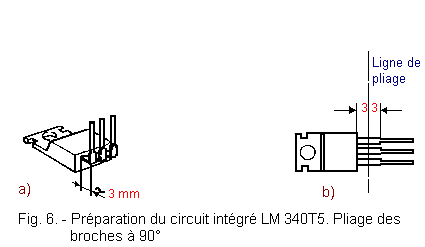 g) Turn the circuit board over and insert the pins of the integrated circuit on the copper tracks side into the holes provided. The regulator mounting hole must match the hole on the PCB as shown in Figure 7-a. Do not perform any welding at this time.