Created it, 06/09/09
Update it, 06/09/10
N° Visitors
SYNOPSIS : BOOK DATED TTL
In this synopsis "book Dated" what means in French catalogs, we will present to you the logical circuits most employed.
1. - CIRCUITS FREQUENTLY MET IN THE INDUSTRIAL ASSEMBLIES
Bipolar technologies and MOS until now are used in the industrial circuits.
That it is for maintenance or the realization, it is important to know not only technology, but also the inventory of the circuits with their function.
Each manufacturer uses codes which it prints on the cases in order to be able to identify them. Still these codes should be known.
It is the role of figures 1 and 2 which give the significance of the codes of name of logical circuits TTL and C-MOS.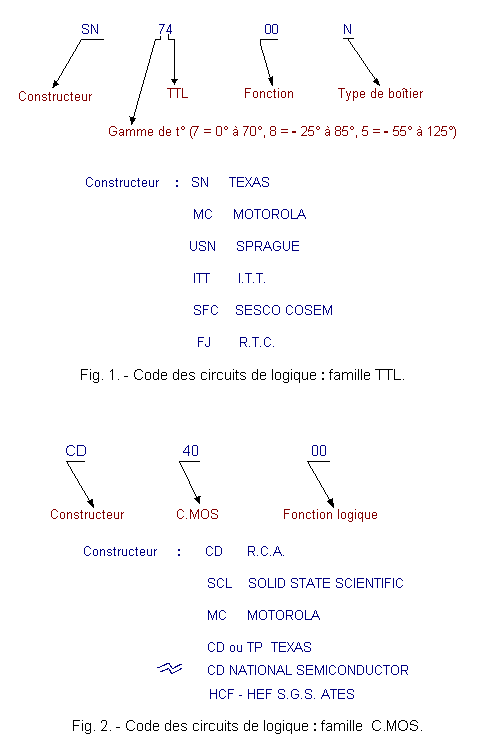 The two paragraphs which follow respectively provide the functions and the stitching of logical circuits TTL (bipolar) whereas the two last pursue the same goals but in technology C.MOS.

1. 1. - INVENTORY OF THE CIRCUITS OF LOGIC : FAMILY TTL
To know certain stitchings or their connections of the integrated circuits, it is enough to pass your pointer on the bonds hereafter:

1. 2. - STITCHING OF THE CIRCUITS OF LOGIC : FAMILY TTL


Daniel